Dress For Outdoor Play: Rain or Shine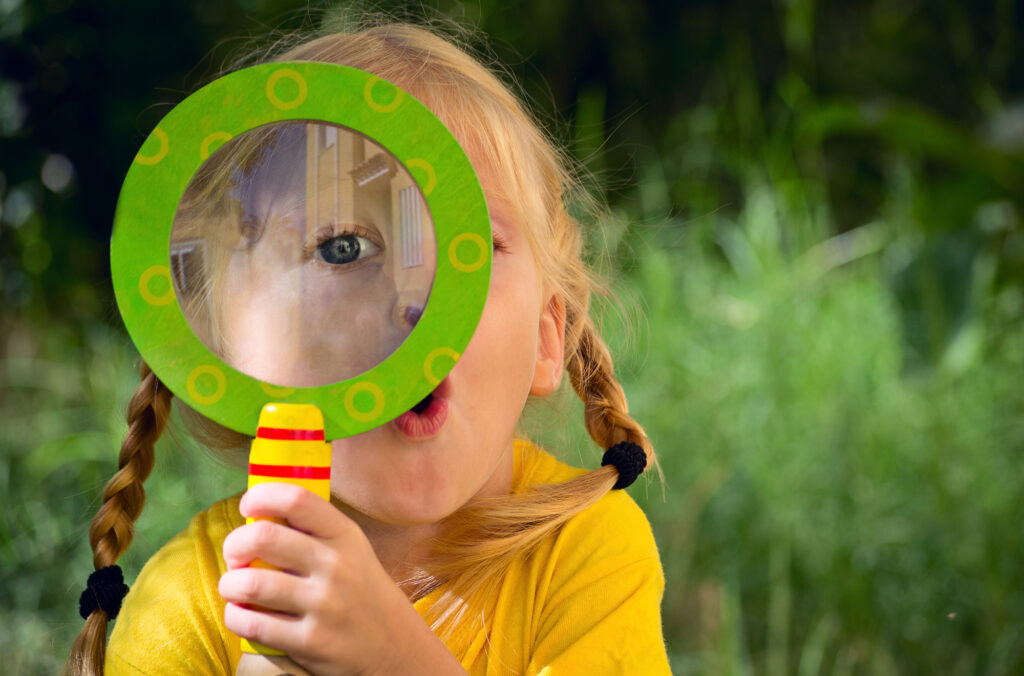 Do you love spending time outdoors with your kids? There can be so many ways to have fun and explore the outside world. However, what happens when Mother Nature decides not to cooperate with some inclement weather? It can certainly put a damper on your outdoor play time. You may think that getting wet and cold might ruin your fun, but with a little planning and creativity, you can weather-proof your outdoor adventures and have a blast, come rain or shine!
Let me tell you about the time the kids and I were on a nature walk. Even though we could see that there were grey clouds passing by, we thought we would take our chances as the cloud cover kept the late afternoon sun from beating down on us. But. . .
We were wrong!
Halfway through our walk, the sky got very dark, and it started pouring down rain! (That's the kind of weather we have where we live – one minute sunny and the next a downpour.)
Needless to say, we were completely unprepared and ended up getting drenched! Instead of letting it completely ruin our little walk, we decided to make the most of it. We splashed around in the puddles and made a few mud pies on our way home. Later when the rain stopped, we even spotted a rainbow which put an exclamation mark on the day. All in all, it turned out to be a very memorable outdoor adventure.
However, the kids were soaked through and even a bit miserable by the time we got back inside. So, while it was great to make the most out of the moment, the fun would have lasted longer and we wouldn't have been miserable once we got back inside had we been better prepared for the rain.
Lesson learned! We got smart about preparing for adverse weather when we're outside so the fun can keep going come rain or shine.
So, if you're looking for ways to weatherproof your outdoor adventures, we've got you covered. . .pun intended. Ha ha! Here are our best tips for being prepared for all types of weather year-round. We'll even throw in some fun outdoor play ideas that are perfect. . .no matter what Mother Nature sends in your direction.
Dressing for the Weather During Outdoor Play
The first step in weather-proofing your outdoor adventures is dressing appropriately for the season and being prepared for any changes that might occur.
Honestly, we've gone out for a snow day and ended up sweating like crazy; or, like in our little adventure above, gone out for a walk on a relatively nice day and ended up wet and cold.
If you are prepared, you can beat some of the huge swings in being too hot or too cold. Here are some tips for how to dress for different types of weather:
Sunny Days: On sunny days, I think it's a given to protect yourself from the sun's harmful rays. You could wear a hat to protect your head and face, unless. . .you hate hats as much as I do! In that case, skip the hat, but don't skip applying sunscreen to any exposed skin. Also, lightweight, breathable clothing will help keep you cool and comfortable.

Rainy Days: Let's talk about rainy days. Of course, you want to wear waterproof gear to stay dry if you're just walking around. A good raincoat and waterproof boots will go a long way in keeping you comfortable. However, if your plan is to jump in puddles and dance in the rain, you may want to have a change of clothes, shoes, and especially socks handy. Again, don't forget to pack a hat (your call) or hood of some kind to keep your head dry.

Cold/Snowy Days: Believe it or not, winter can be one of the most fun seasons to be outside! The real key to staying comfortable in cold, winter weather is to dress in layers. This comes from the experience of living in a snowy winter climate for over 30 years now.

Start with a moisture-wicking base layer to keep sweat away from your skin. Add a warm mid-layer, such as a fleece or down jacket, and finish with a waterproof outer layer to protect against wind and snow. Don't forget to wear warm gloves, a hat, and a scarf to keep the rest of you warm. Adjust your layers to your comfort level as the day goes on.
One more thing (again, speaking from experience), bring an extra pair of gloves if you are going to be in the snow for very long. It doesn't matter if they're waterproof, snow will eventually get inside and your hands will be wet and cold and will cut short your outdoor play time. A dry pair of gloves feels sooooo good later in the day.
Fun and Engaging Outdoor Play
Now that you're dressed appropriately for the weather, it's time to have some fun. Here are a few ideas for some outdoor play that are perfect year-round in each type of weather: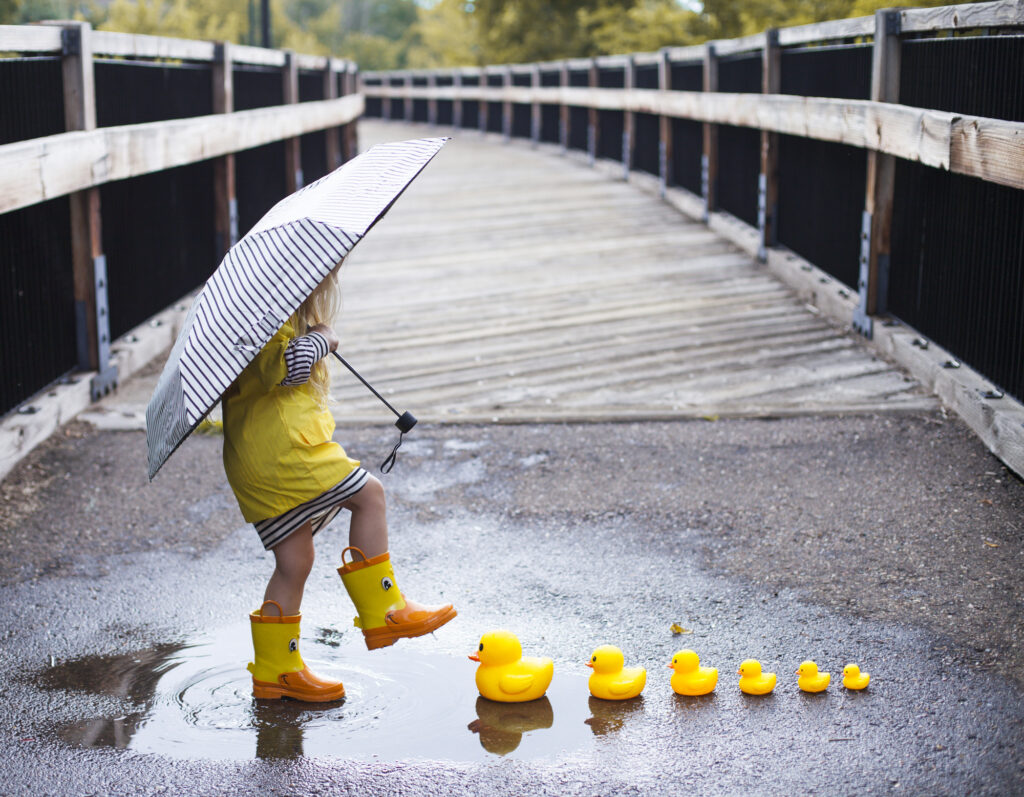 Puddle Jumping: On rainy days, embrace the puddles and jump in them! Have a change of
clothes and shoes and socks handy, and then let the kids splash around to their hearts' content.

Did you know that this activity isn't just for fun? It's also a great way to develop gross motor skills and sensory awareness. Who knew? There are so many fun things to do outside on a rainy day!

Nature Scavenger Hunt: On warm, sunny days, go on a nature scavenger hunt. Actually, this activity can work on any weather day – rain, snow, or shine. There's always something fun to discover outside. You can simply create a list of items to find, such as leaves, rocks, or flowers, and then see who can find everything first. OR, we have created a scavenger hunt for each season, and you can get the free printables here.

This activity will help to develop observation and critical thinking skills. . .something that seems to be in short supply today if you ask me. This type of activity can help the kids develop these skills early in life.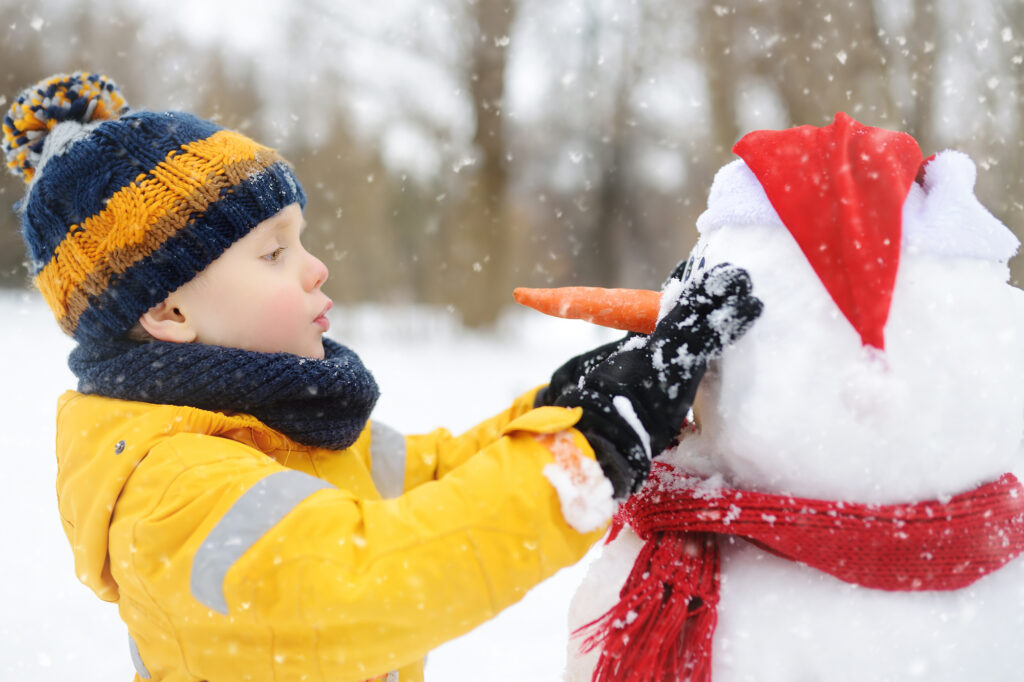 Snowman Building: On cold days, just accept that it's cold outside and go build a snowman. Gather twigs, stones, and other natural materials to decorate your snowman. Then, go grab a few clothing items from the house to dress up your little snow creation. Using teamwork and creativity, you can have the best dressed snowman on the block! Check out some of our other suggestions for winter outdoor play time.

Afterwards, my favorite way to wrap up a day of playing in the snow is to curl up on the couch with the kids and read a fun book and drink some Skinny Hot Cocoa (one of my less-guilty pleasures). Snowmen at Night is a really fun book (and a personal favorite) to read after building a snowman. If you're really ambitious, go out after the kids have gone to bed and move the snowmen around. It will thrill them to see that their snowmen play at night too!

Nature Walk: Another activity idea that doesn't have to be weather dependent is a nature walk. Explore different trails and natural areas and see what you can discover. Bring a nature guidebook and try to identify different plants and animals. Your local extension service or forestry department may have some recommendations.

This activity is not only fun, but it's also a great way to develop a love of nature and environmental awareness and family togetherness. When you learn together and make memories, you create bonds that last.
Staying Safe and Comfortable During Outdoor Play
No matter what type of outdoor activity you choose, it's important to be prepared and make sure you're comfortable throughout your adventure.
Here are some additional tips for how to do that: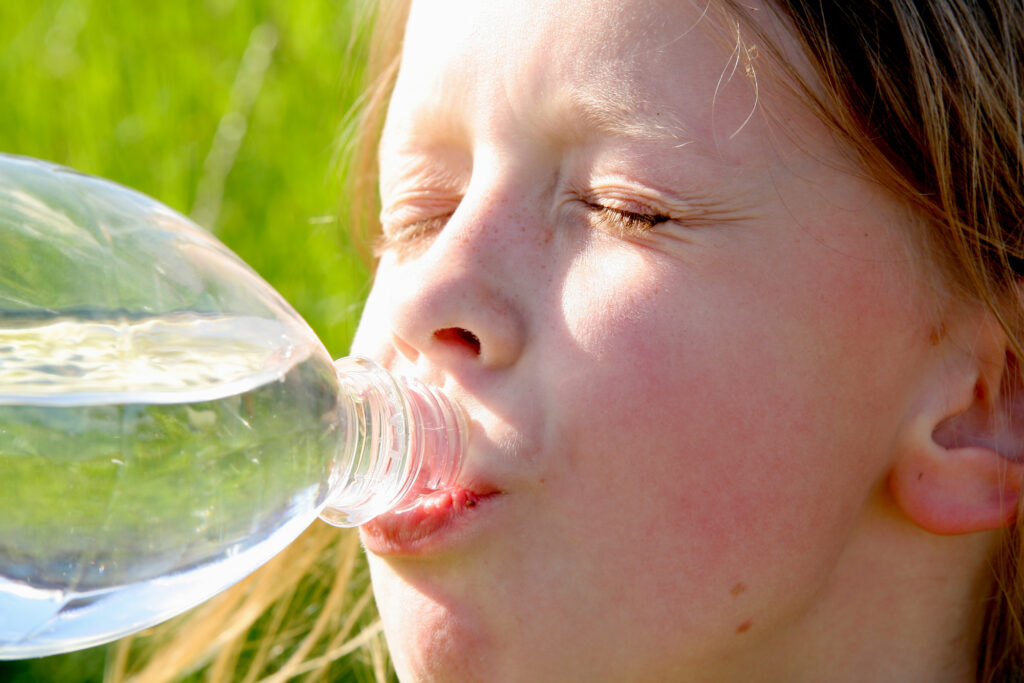 Hydration: Make sure to bring plenty of water and snacks to keep everyone hydrated and energized. Water is just as important in the cold weather as it is in the warmer weather. So, don't forget to grab a water bottle even if you're going skiing or sledding. (My very favorite one these days is the Circul water bottle!! It's both plain and flavored water all in one! I call it my "magic" water bottle. The kids love that!)

Bug Spray: Warm weather tends to bring out all the creepy crawlies and flying things. It's wise to bring along bug spray to protect mostly against mosquitoes and ticks. Besides being annoying to the point that it may ruin your fun, they carry nasty diseases that you really don't want to deal with!

Rest Breaks: Take regular rest breaks to prevent fatigue and prevent overexertion. If you have little ones with you, you'll need those breaks or you'll never hear the end of it! Depending on your activity, you could bring along a portable chair or picnic blanket to take breaks and enjoy a snack. No one really likes to carry chairs, but I have a nifty wagon that I take everywhere – hiking (if the trail is easy), soccer games, and picnics in the park!

Know the Weather Forecast: Before heading out, make sure to check the weather forecast and plan accordingly. Caveat: Let's get real. If the weather people were always right, this would make things much easier. However, since they are often wrong, take their predictions, go outside and look at the sky, trust your gut, and then just prepare for all the possible scenarios. Do pay attention if they are predicting severe weather though. Thunderstorms, flash flooding, tornadoes, and the like are all good reasons to reschedule your activity.

Stay on Marked Trails: To avoid getting lost or injured, it's important to stay on marked trails and follow any posted signs or warnings. The signs are there for a reason not just for fun!

Be Prepared for Emergencies: Bring along a first-aid kit and know how to use it. The First Aid Only one is my pick for portability and usefulness. Thank goodness we've only needed it for minor things, but it's pretty comprehensive and super compact. It's also a good idea to bring a charged cell phone or other means of communication in case of emergencies.
Conclusion
There you have it! Weather-proofing your outdoor adventures with your kids made easy. By following these simple tips, you can make sure that you and your little ones have a blast, no matter what Mother Nature throws your way.
So, grab your raincoat, sunscreen, or warm jacket, and get ready to make some unforgettable memories with your family. Don't forget to plan fun and engaging activities, stay safe and comfortable, and most importantly, have fun!
I hope these tips have inspired you to get outside and explore the great outdoors with your kids. Until next time. . .Happy adventures!